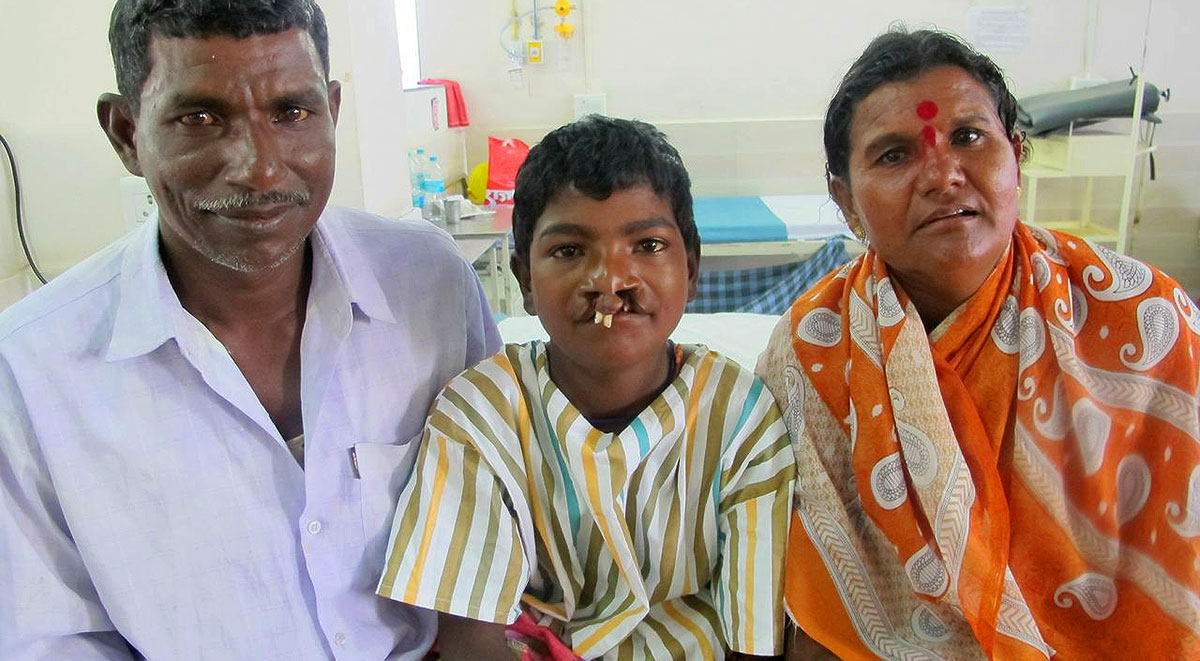 Ganesh is eleven years old. He was born with a severe bilateral cleft lip and palate causing him feeding problems from birth and making his speech unintelligible.
Despite these difficulties, he attends his local school and is able to read and write. His parents are very thankful to his headmaster and teachers who assure them, as far as possible, that he is not teased by the other children.
Ganesh is the youngest in his family; his four sisters are all married and his older brother is grown up. All the family work on farms cutting sugar cane from 5 in the morning until 3 in the afternoon. When he was small his mother had to take him to work with them as they had no where else to leave him.

Work is monsoon dependent – no rain means meagre crops and no income. During such times Ganesh's father cuts stone slabs for building construction. Such work is irregular and very poorly paid – he shows us his hands which are heavily calloused with hard labour.
Ganesh's parents could not afford to pay for the corrective surgery they desperately wanted for their son.
Early in 2014 Doctors from Hedgewar Hospital in Aurangabad travelled to Ganesh's village, nearly 200km away, to locate children with cleft conditions who were relatively isolated from the big cities and less likely to hear about the free corrective surgery offered by Northern Cleft Foundation. Learning of Ganesh through his headmaster they offered him treatment at the next cleft camp.
Ganesh arrived at the Northern Cleft Foundation Cleft Camp in Aurangabad flanked by his parents and his headmaster who had encouraged them all to attend.
Although grateful to be able to access treatment they were anxious about what the result of surgery would be. They were relieved to see photos of someone with a similar problem who had benefited greatly from surgery.
After surgery Ganesh's lip is swollen and sore but the improvement, which will continue during the healing process, is evident.
Ganesh's family is delighted and his mum says she will tell other people in the village to bring their children for treatment next year. They hope the treatment Ganesh has received will enable him to stay at school and ultimately he will be able to get a better job and lead an easier life than theirs.