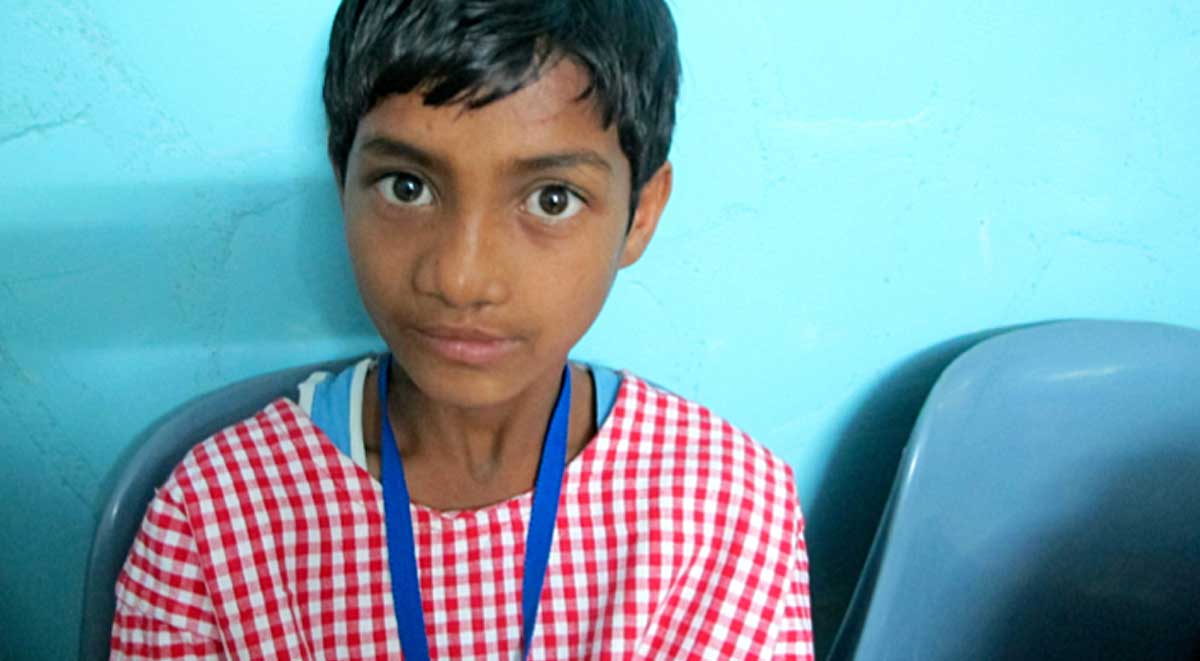 Pappu is fourteen. He is one of three children; the only boy in the family. His father is a "daily worker" which means he earns the equivalent of £1 a day doing whatever work is available – labouring on farms, picking up construction jobs – earning just enough in a good week to feed the family.
Pappu was born with a cleft palate and because the gap in the roof of the mouth is continuous with the back of the nose, he suffers from nasal regurgitation – food and liquids come down his nose when he eats or drinks.
His major problem though, he says, is his speech. His pronunciation is not clear because of his palatal defect and he has difficulties making himself understood. It is clear to see he is very shy and finds it difficult to explain this. He says he feels embarrassed talking to friends and even to his sisters. His classmates and the teachers at his school tease him and call him names.
His teachers make him write down what he wants to say – making his disability even more obvious. Even going to buy something from the grocers is difficult because he can't make himself understood. Only his Mum can understand him.
He is a slight boy, small for his age and obviously lacking in confidence. " I feel very sad" he says, his eyes full of tears. The unfairness is that because of poverty, Pappu's palate wasn't repaired much earlier, ideally before he had begun to talk.
He heard about the NCF outreach from his school and is pleased to be able to have surgery which will correct his nasal regurgitation and may help his speech a little. However, because he has spoken in an abnormal way for so long it is going to be difficult for him to learn a new way of speaking.
One thing that would help him to do this would be speech therapy. From next year we hope to have speech therapists as part of the team, providing valuable input both before and after palate surgery. We may well be able to see Pappu again then.
The great tragedy is that his confidence and life chances have been hugely dented because of his cleft – his story exemplifies the need to treat children early so that they can live a full life in every way.